Owner, Veterinarian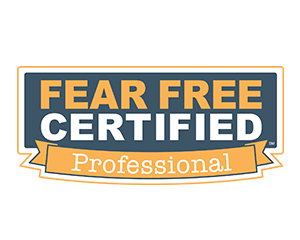 A practice co-owner since 1999, Dr. Palmer has a special interest in oncology (cancer medicine) and performing ultrasounds. He is the first veterinarian in DuPage County to achieve the Fear Free Certified Professional designation, a Golden Retriever Lifetime Study partnering veterinarian, and a USDA National Accredited Veterinarian.
Dr. Palmer grew up in Ottumwa, Iowa and wanted to be a veterinarian ever since reading his first James Herriott book. He graduated from Iowa State University College of Veterinary Medicine in 1994 and started at Burr Ridge Veterinary Clinic that same year. He enjoys meeting new pet families and partnering with them to develop a joint advocacy role in caring for their furry kids. Sound preventative care, compassionate training and lots of love are the keys he knows will create the healthiest pets and the best bonds between our hearts and theirs.
Dr. Palmer is married to fellow veterinarian Dr. Maxine Franck and they are proud parents to three kids. Their house is home to many furry friends, including one dog – Roxy, one cat – Bubba, a rat, and a corn snake. Dr. Palmer is also an accomplished triathlete. He completed his first Iron Man competition in Madison, WI in 2010 and participated again in 2012, 2014 and 2017, where he finished in the top 10% of his age group. During 2010, 2011 and 2012 he was given an honorable mention as an All-American Triathlete. When he is not competing or working, Dr. Palmer enjoys time with his family, traveling, photography and gardening.
---