Fear Free Visits
We understand that visiting the vet can be a stressful experience for some pets and do our best to make sure our patients are comfortable while at the clinic. BRVC was the first veterinary clinic in DuPage County with Fear Free Certified Professionals who are committed to helping pets feel more relaxed while receiving veterinary care.
Fear Free Certified™ Professionals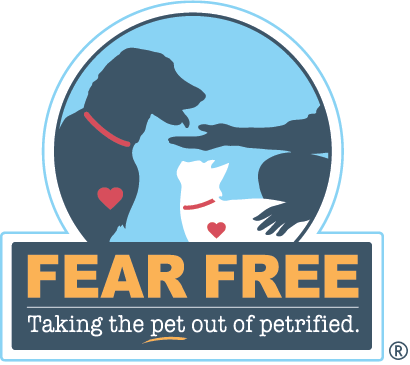 Fear Free is a comprehensive training and certification program that helps veterinarians modify clinic procedures, handling, and facilities to help pets feel safe and comfortable while receiving the medical care they need. This allows us to make sure each pet receives all of the medical treatments needed for good physical health with an equal commitment to the emotional health of our patients. Your pet will be examined wherever it feels most comfortable – on a non-skid floor or exam room surface – or in your lap. We use soft voices and calming sounds in the exam room and have a wide assortment of tasty treats to distract patients during vaccines, blood draws, and nail trims. And, we're happy to stop and take a break during the exam if your four-legged family member needs more time to relax.